Catholic Church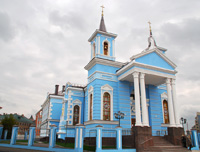 The new catholic church of the Exaltation of the Holy Cross, situated in the intersection of Ostrovskiy and Aidinova streets, opposite the basket-hall was hallowed in August, 29, 2008.
Cardinal Angelo Sodano, the dean of the cardinals' board, the former state secretary of the Holy Apostolic See, arrived to the solemn ceremony.
The uniqueness of the catholic's church opening lied in the fact, that the church was almost completely built on the means of the Tatarstan Republic's budget. The speaker of the State Council of the Republic of Tatarstan Farid Mukhametshin and the mayor of Kazan Ilsur Metshin arrived to the ceremony of opening and presented the symbolic key from the parish house to the cardinal and the dean of Kazan parish Father Diogenis Valentine Urcize.
The honorary guests at the mass of the church's concecration were the mayor of Polish town Chenstohov T. Vron, the mayor of the Province Fatima (Portugal) D. Catarino and the president of the World Fatima apostleship David Carollo (the USA).
In the main hall of the church the organ is placed – it's the present of catholic community from Italy. Besides the icons the premises is traditionally decorated with the sculptures of the Saviour and Mother of God. And near the altar there is a hand-made cross, performed be the master, who specially came from Poland.
Four bells, placed on the belfry of the catholic church will invite the parishioners to the mass. The heaviest bell weighs 400 kilos.
In the main prayer hall the benches are installed in order the parishioners could take part in the masses. On the upper floors there are the rooms for the studies of Sunday school: persons interested can study foreign languages, go in for arts, watch the videofilms, use the library.