Giuseppe restaurant is a fantastic choice for wedding and party reception venues, set in the heart of Kazan, close to the Kremlin.

The Hall design is created in a Luxury Venetian style with columns decorated by Romantic scenery of Venice. Especially warm and cozy atmosphere is created by the Fireplace with unique Venetian Masks.
Two Thrones were made from carved wood with gild for Just Married Couple and cozy soft chairs with armrest for guests.
The Hall could accommodate up to 150 people. The hall area is 350 square meters with air conditioner, the light is natural. There is a multimedia projector, laptop and big screen which could be used to organize the presentation of your favorite photos for guests during the wedding party.
Any arrangement of tables and chairs is possible; you can also choose the shape of tables - right-angled or round tables. The banquet hall area let you allocate place for a tea zone, where you and your guests could evaluate our pastry and delicate desserts.
In our Hotel you can organize not only the Wedding party, but also the registration of your marriage in a ceremonial and luxury private Hall. During the Summer time the registration ceremony could be held in the internal patio of the hotel full of natural flowers.
As a present the hotel will propose the newly married couple free of charge the room Studio Siena for the first wedding night.
The next day you can order breakfast in the room, and also late check-out is at your disposal.
We give 20% discount for the rooms for the new married couple's guests.
Manager of the wedding and conference department will be glad to meet with you, discuss your plans and demonstrate the facilities of the hotel.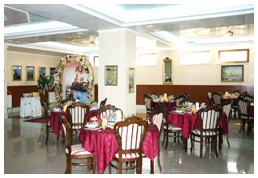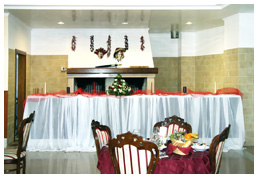 Wedding venues in Kazan, Kazan restaurants