The mosque Kul-Sharif
October, 1552. The capital of Kazan khanate is in charred ruins. Ah exhausting siege and fierce bloody fighting of the main strong point – Kazan Kremlin is taking place… The unequal battle lasted for several days, until all its defenders were fallen…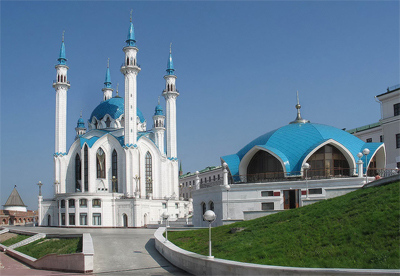 A prominent Tatar scientist, enlightener, philosopher Sh. Margjani wrote in his research, that in the Kremlin was the main (conciliar) eight-minaret mosque, headed by a respectable, honoured religiousman, scientist, poet, diplomat Sharifcol. Four centuries ago a legendary poly-minaret mosque Kul-Sharif beautified the capital of Kazan khanate, amazing everybody with its magnificence, grace, luxurious library. It was the centre of religious education and the development of sciences of the Middle-Volga Region in XVI century. It was named after its last imam Kul Sharif.
According to the researches of the Doctor of Architecture N. Khalitov, the mosque was oriented to four parts of the world. Probably, the prototype of such construction we should find in the wooden architecture of Kazan tatars, where the crossed plans of the houses, pedimentally covered are presented. Thereby, a rather complicated origin of the mosque Kul Sharif is suspected to be: the crossed plan and the hip forms of the Tatar wooden architecture are reproduced in stone.
It was double-level and eight-minaret. It looks like an emir palace "Kazyk Yorti", but exceeds it in sizes and decorated much more refinely. Its eight minarets remind about eight provinces of the Bulgar state, the cupola - about the seyid's power, the crescents – about the omnipotence of the Lord in the Highest.
In 1552 during the Kazan's storm by the Ivan Grozny's troops seyid Kul Sharif was one of the defence's leaders, with his pupils showed stubborn resistance and heroically fell as all his pupils. The mosque was burned and destroyed. The peculiar poly-minaret of Kazan proudly towered on the crest of the hill, was razed to the ground. Since then the legendary image of the mosque and its head – seyid Kul Sharif, lives in the people's hearts. Several centuries have passed.
The recreation of the mosque Kul-Sharif began in 1996 on the territory of Kazan Kremlin accordind to the plan of architects' authors group of the firm "Tatinvestgrazhdanproject". The complex of the mosque corresponds the symmetric composition, in the centre of the courtyard there is the mosque's building and by the sides there are two halls for the spatial coordination of the former military school's building and the mosque's complex in order to lend significance to the architectural object and to enrich the Kremlin's view. The complex of the mosque includes the building of the mosque itself, museum-library, publishing centre, the imam's administration.