Peterburgskaya street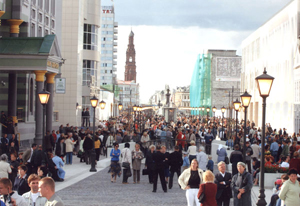 The grand ceremony of opening the street with the participation of Saint-Petersburg's governor V.I. Matvienko was held in August, 2005. This event was timed to the celebration of Kazan's 1000 anniversary.
The main artistic idea of Peterburgskaya street – is to build the nook of Saint-Petersburg in the capital
of Tatarstan, using the most typical for the Northern Palmyra architectural methods, elements, styles and the patterns of paving the streets. The section of Peterburgskaya street from Tukay's square to the crossing with Aydinova street has become a pedestrian area, whose length is 560 metres. Here are placed the architectural projects, designed in the style of Saint-Petersburg. The piece of Vasilyevsky Island and Neva, the quay, the bridges and many others are reflected here.
The image of a river is the basis of the pedestrian street's composition. The water surface was succeeded to imitate by cobbling the sledged stone. Across the "river", by both sides of which are the granite quays, are thrown the bridges "Moyka", "Griboedov's channel", "Fontanka". The splendid street lamps, griffins and the sea anchors – the symbols of Saint-Petersburg remind you the sea capital of Russia. The reduced copy of the galley, where Ekaterina the Second arrived to Kazan in 1767, has become the decoration of the street. In the Rotunda, that embodies the cupola of Kazan Cathedral, is placed the exposition, devoted to the history of both cities.